Spotted this on Facebook, no connection to me. Just made me smile finding out it has a Rover V8 in it.
My dad did something similar 25 years ago.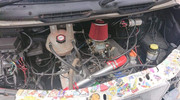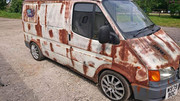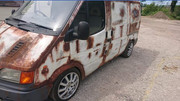 His ad.
Testing the water here. I have this 1999 ratrod transit. Painted to look rough as but actually very good. Standard in general apart from lowered all round, 17 inch porche wheels with great tyres and of course a V8 rover engine. Had a recent rebuild so is in great condition, standard other than a set of twin choke carbs ( I was told she's running around 200bhp but a set holly double pumpers will put that up a 100 if that's your thing). Sounds like dragster even though the exhaust looks standard. 5 speed manual. Turns heads everywhere but just doesn't get used a lot with me up and down the country. Part of me doesn't want to get rid but I'd consider a swap for something sporty (a little more comfortable would be good as she's solid on suspension). Tax and mot and still used (now and again). Try me you never know.
Not the best pic but this is the one my dad did.