---
I am
Cheers
Rus

My Place is currently the home of 'Tif' the TF135 and the as yet un-named 827SLi
---
I would love to be ...................
Gaz (or Gary if we're being formal)

2004 Streetwise Diesel 5 Door in Silver.
---
Moderator
Posts: 1738
Joined: Sun Mar 28, 2010 4:28 pm
Location: Hertfordshire
We are going.
At the moment we will be taking the patrol car as long as the battery charges.
Hope to get across to Beaconsfield as per the last couple of years and drive up in convoy.
Kate
D reg Rover 820Si Saloon. No space for a a saloon in this rootin tootin town
G reg Rover 820SE Fastback (my every day runabout) that ran off.
G reg Rover 827Si police Fastback (last Mk1 jam sandwich)
V reg Rover 825 Sterling Fastback (end of an era)
---
Regular Visitor
Posts: 401
Joined: Sun Feb 13, 2011 3:41 pm
Location: Hemel Hempstead, Hertfordshire
me too
---
I'll be tagging along again this year.
I'm sorry I don't log onto the forum much, if at all, but I'm over on the Facebook page frequently.
Last year I brought along the mk2 Bolero saloon (which is now up for sale)
This year I will be in Thundershite... A mk2 silver fastback 820Si.

See you tomorrow.

Lee.
LeeLee.
1999 Rover 820Si manual Fastback
1997 Rover 820Si auto saloon
1982 Austin Ambassador 2.0 Vanden Plas.
1981 Princess 2.2 HLS auto, Rare 100 Club Special. (Pending Restoration)
1979 Princess 1700 HL (Mrs Winn)
1976 Lambretta GP 225
---
Rover Guru
Posts: 861
Joined: Thu Nov 25, 2010 8:01 pm
Location: slough
Contact:
cannot see a thread for pol this year... anyone going?.. i will be going from beaconsfield services again this year.. april 16th.. regards ricky
Rover Sterling KV6 V.reg 4 tailpipes and rs5 wheels (sold)
home of the "Mad Maestro"
1935 morris 18/6, having a near end of life rejuvenation, xj6 running gear..
---
Regular Visitor
Posts: 401
Joined: Sun Feb 24, 2013 12:42 pm
Location: Netherlands.
Yep!
1989 Rover 827 Vitesse.
1982 Rover 3500 Vanden Plas.
---
Will be there with my Vitesse and 400, all being well.
---
Should be there in the Vitesse, a bit work in progress though.
Mk2 Vitesse Fastback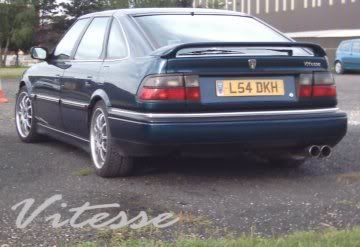 ---
Who is online
Users browsing this forum: No registered users and 2 guests